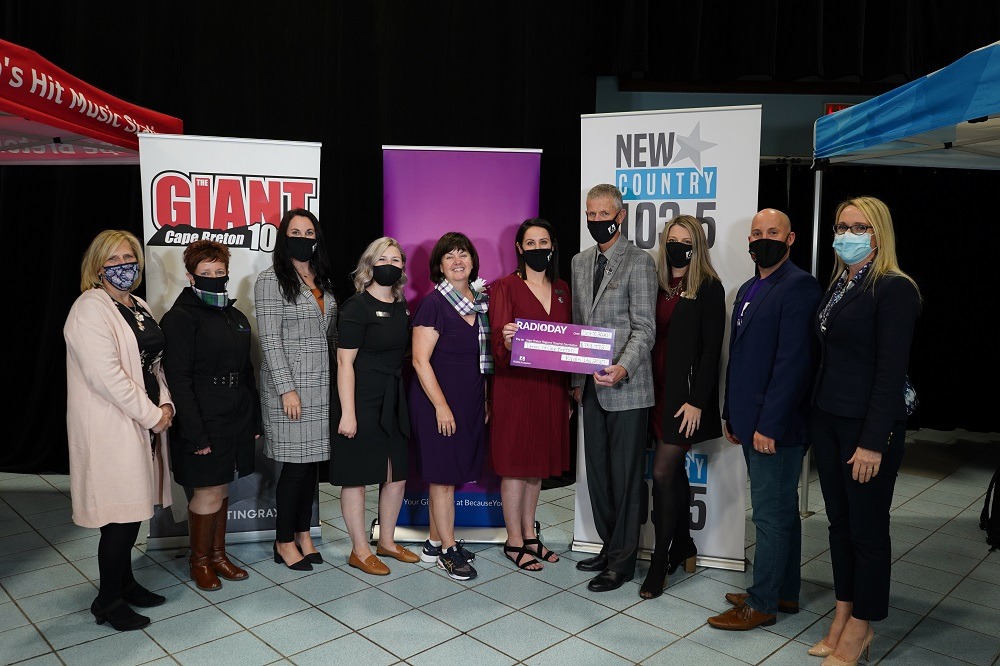 SYDNEY, N.S – RadioDay 2020 had a different look and feel this year and the results spoke for themselves. More than $753,772 was raised to support cancer care and other areas of care in Cape Breton today at RadioDay 2020 hosted at Centre 200. Patients battling cancer and those who are now survivors, were accompanied by donors, family members, medical professionals and Foundation Board and staff. A partnership with 101.9 The Giant and New Country 103.5, this annual event has raised more than $8,372,000 dollars to date.
A key element of RadioDay 2020 was fundraising for a new life-saving piece of equipment. This year, donors gave in support of funding Cape Breton's first ever CellaVision equipment. This advanced technology offers patients critical time while specialists can identify and treat deadly cancers that move quickly and often change rapidly.
"CellaVision is a game-changer," said Joanne Menchefski, Point of Care Specialist for lab services at Cape Breton Regional Hospital. "With real-time reporting, our local medical laboratory technologists and the pathologists in Halifax can work together, more quickly to determine next steps. Avoiding lengthy waits for samples to be couriered to Halifax can give patients either peace of mind, or the critical extra days to begin a treatment plan." With CellaVision, many Cape Breton Cancer patients can have an early start to a long fight ahead.
RadioDay featured some amazing cancer patients who shared their journeys to encourage donors to give and understand the great needs our new cancer centre. Cayla Toomey, who has a brain tumor, was overwhelmed with the support of donors in our community. "It does so much for my soul to see all of these people coming in to give back," said Toomey, whose tumor was once the size of a peach. "I'm exhausted and often emotional while fighting cancer, but this has truly lifted my spirits more than I could have imagined."
Two hours were dedicated as 'Power Hours.' From 8 a.m. to 4 p.m. MECO Construction DKI matched every monthly donation made up to $10,000. Because of their generous offer, more than $42,470 was raised in that one hour through phone calls and donors dropping by. From 4:00 p.m. to 5:00 p.m., Jim Sampson Motors matched all donations up to $10,000 and an incredible $25,340 was raised. These two power hours, in addition to donations in the past few weeks, were able to fund 80 per cent of the cost to purchase Cape Breton's first ever CellaVision equipment for the Cape Breton Regional Hospital.
Despite many events being cancelled and a very different year for our fundraising efforts as a result of COVID-19, RadioDay 2020 was still an enormous success. "Our donors' passion comes through even in the most difficult of times," said Paula MacNeil, Cape Breton Regional Hospital Foundation CEO. "Those who bravely shared their stories have helped our donors understand the true impact of their giving. We can't thank everyone enough for their outpouring of support and care," MacNeil said.
With the partnership between the Cape Breton Regional Hospital Foundation and 101.9 the Giant and New Country 103.5, more than $3,681,772 has been raised in the past four years to strengthen healthcare in Cape Breton.
Although the focus of RadioDay was Cape Breton's new Cancer Centre, many gave towards other places, such as Caleb's Courage, the Pediatrics and other important funds.
Since 1992, the Cape Breton Regional Hospital Foundation, in partnership with the community has raised more than $55 million to purchase equipment, and fund upgrades at the Regional Hospital. The Foundation has recently been accredited under Imagine Canada's national Standards Program, which promotes transparency of charities and nonprofits, and strengthens public confidence in organizations and the sector as a whole.Thanks to the generosity of the Cape Breton community, our foundation has been able to purchase priority equipment and fund services which provide world-class care, closer to home.