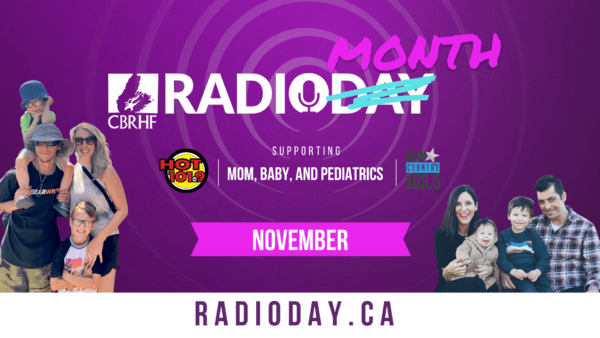 After being postponed due to hurricane Fiona, Radio Day, the Cape Breton Regional Hospital Foundation's largest annual fundraising event, will become a month-long campaign to support mom, baby, and pediatrics at the Cape Breton Regional Hospital.
"We are grateful to our community partners for making the shift to Radio Month possible," says Paula MacNeil, CEO of the Cape Breton Regional Hospital Foundation. "Though our plans have changed, the need to support Cape Breton's littlest patients, and their families, strongly remains."
With the support of Hot 101.9 and New Country 103.5, the Foundation will be sharing health care stories, educational content, and accepting donations throughout the month of November. All funds raised will directly help to fund items like prescriptions not covered through medical plans, travel costs to-and-from specialist appointments in Halifax or Toronto, newborn necessities such as car seats and diapers, parking passes for families with long hospital stays, and more.
"When Tucker was airlifted to the IWK, we had to stay in Halifax for almost six weeks," says Brittany Hopkins, Administrative and Stewardship Assistant at the Cape Breton Regional Hospital Foundation. "Our entire stay was covered by the amazing donors of the Foundation. We were able to put all of our focus on caring for our son instead of worrying about financial burdens, especially since we both had to take leave from work."
Remaining committed to the cause, traditional Radio Day Power Hour Partners MECO Construction DKI, Schwartz Furniture and Jim Sampson Motors will be matching all donations made in November, up to $10,000 each, for a total of $30,000.
Visit www.radioday.ca to learn more and give back, because you care.