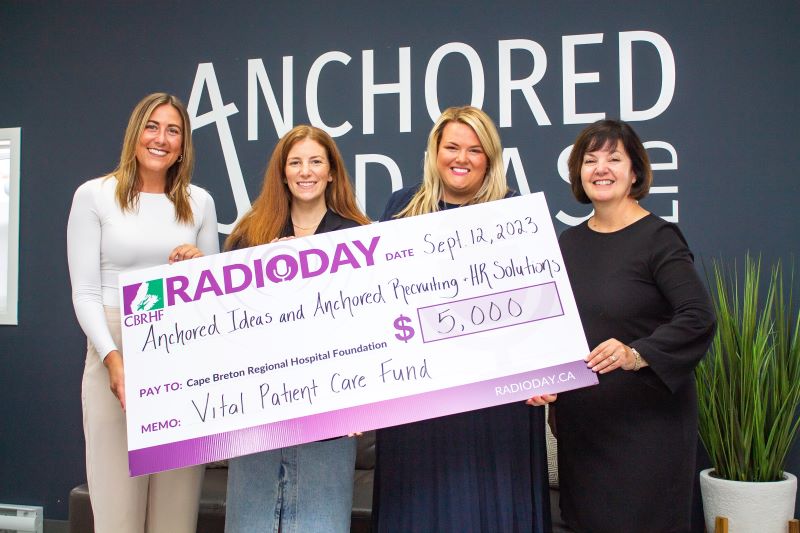 Today, the first ever gift has been given to the Cape Breton Regional Hospital Foundation's new Vital Patient-Care Fund, in honour of the 16th annual Radio Day.
Anchored Ideas and Anchored Recruiting & HR Solutions, two local agencies, have joined to give a gift of $5,000 to help launch the fund.
"The work of the Cape Breton Regional Hospital Foundation is something that we care deeply about, and this new Vital Patient-Care fund is a cause that we are very proud to support," say Danielle Patterson and Danielle Johnston, Partners, Anchored Ideas and Anchored Recruiting. "As mothers, community members, business owners and friends of the Cape Breton Regional Hospital Foundation, we know that this fund will help support all members of our community during their time of need. We encourage you to look at the benefits."
The Foundation plans to use Radio Day, their largest annual fundraising initiative, to rally support for the new and innovative fund, which will support patients on every floor of the Cape Breton Regional Hospital (CBRH).
The Vital Patient-Care Fund has a goal of eliminating barriers to care for those experiencing financial burden associated with their health care journeys. It's estimated by health care experts that the new fund will help more than 30 patients each month – nearly one patient per day – with needs such as: purchasing items necessary for discharge from the hospital, thus freeing up beds for other patients; emergency trips to Halifax; clean clothing in which patients can leave the hospital; renting accessibility equipment like wheelchairs; and more.
"The Fund is largely modelled after our well-known Tom MacNeil Cancer Patient Care Fund," says Paula MacNeil, CEO of the Cape Breton Regional Hospital Foundation. "With a growing and aging population, and our Foundation seeing a 72 per cent increase in funding requests to support patients, it became very evident that a general patient-care fund is needed."
Medical social workers at the CBRH played a lead role in bringing the fund to life, advocating for the need they see each day in working with patients.
"This fund acknowledges that health care goes beyond medical treatments and recognizes the significance of addressing social determinants of health," says Kristin Crowe, medical social worker at the CBRH. "A patient's ability to afford health care should not dictate their access to quality care and support. This fund will help ensure equitable health care provision."
After patient assessments, medical social workers submit formal funding requests to the Cape Breton Regional Hospital Foundation on behalf of patients, and the Foundation reviews these applications within a week, ensuring timely access to urgent needs.
"We, as a Foundation, exist to support Cape Breton's health care needs," says MacNeil. "We are incredibly grateful to those in our community who provided important information and feedback during our strategic planning, which led to the creation of this new fund," says MacNeil. "We're also thankful for our partners at Anchored Ideas and Anchored Recruiting for giving the first gift to the Vital Patient-Care Fund, helping it to officially launch for those who need it most."
Radio Day takes place on Thursday, October 5, on local Stingray Radio stations Hot 101.9 and New Country 103.5. Community partners are joining to match donor contributions, doubling their impact. Noting the need, longstanding Power Hour partners have increased their matching contributions and will be matching up to $12,500 during their respective Power Hours: Meco Construction DKI from 8-9am; Schwartz Furniture from 12-1pm; Jim Sampson Motors from 4-5pm. And, for the first time ever, the Foundation is pleased to announce an online matching donor. C. S. Boudreau Holdings Ltd. will be matching the first $10,000 in donations made online at radioday.ca.
Donate to Radio Day Now
Learn More about Radio Day