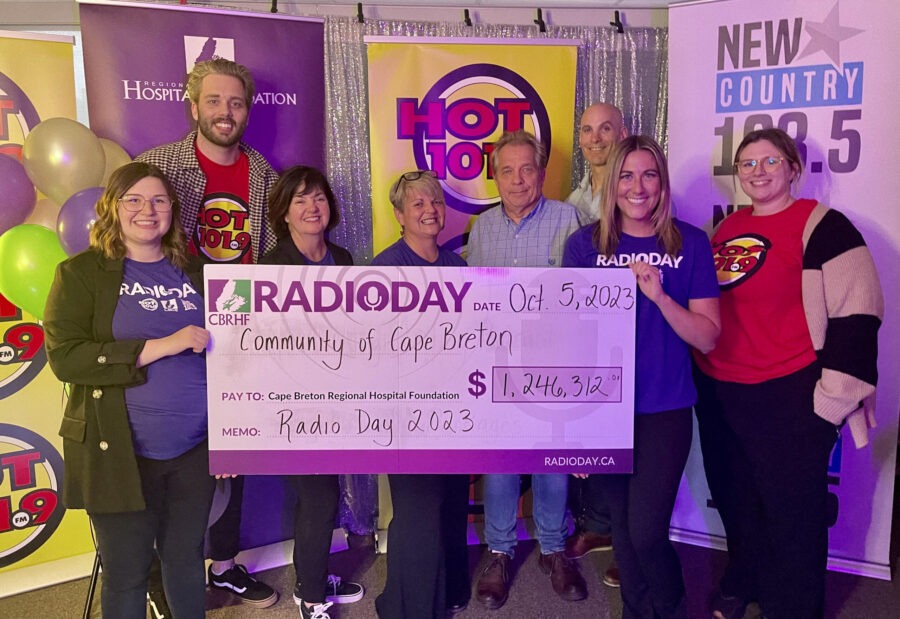 The Cape Breton Regional Hospital Foundation's 16th annual Radio Day has raised a record breaking $1.24 million for health care in Cape Breton.
This fundraising milestone now brings the event's historical total to over $11 million.
A portion of funds raised during the 12-hour radiothon, hosted in partnership with Hot 101.9 and New Country 103.5, will help to launch the Foundation's new Vital Patient-Care Fund.
The Fund, which aims to eliminate barriers to care for those experiencing financial burdens associated with their health care journeys, will help more than 30 patients at the Cape Breton Regional Hospital a month – at least one patient every single day.
"The outpouring of support we've seen during Radio Day 2023 is tremendous and truly showcases what can be achieved when we come together as a community," says Paula MacNeil, CEO of the Cape Breton Regional Hospital Foundation. "We are so proud and humbled to see the people of Cape Breton step up to sure ensure that we can provide care and comfort to patients and their families, on every floor of the Cape Breton Regional Hospital."
Hundreds of individual donors and 70 volunteers helped to make Radio Day 2023 a resounding success.
Additionally, the Foundation's annual Radio Day Power Hour partners, MECO Construction DKI, Schwartz Furniture and Jim Sampson Motors, increased their commitments, matching all donations up to $12,500 each. First-time partner C.S. Boudreau Holdings Ltd. matched $10,000 in online donations. Other partners included Anchored Ideas and Anchored Recruiting & HR Solutions, who gave the first gift of $5,000 to the Vital Patient-Care Fund, and Kenny's Pizza who collected donations at eight locations as the "Bucket Brigade" sponsor.
"To see history be made and our goals surpassed this year is remarkable," says MacNeil. "On behalf of our Board of Directors and all of the Foundation team, we thank you, Cape Breton!"
To learn more about Radio Day or support the Vital Patient-Care Fund, visit www.radioday.ca.